At Free Migration Project, we provide legal services to undocumented immigrants and advocate for more open immigration policies
Alexandra Santos Bocheciamp
Alexandra is a Staff Attorney at Free Migration Project. She has a bachelor's degree in criminal justice with a concentration in law and society from the University of Puerto Rico. She also received her Juris Doctor degree from the University of Puerto Rico School of Law in 2020. While attending law school, she worked as a paralegal at a Washington, D.C. based law firm assisting with disaster recovery litigation.
She became interested in the legal representation of indigent asylum seekers, after participating in the International Exchange Program at the University of Connecticut School of Law. This experience led to volunteering as an interpreter to assist detained asylum seekers in York County Prison, Pennsylvania. She later participated in the University of Puerto Rico's Immigration Law Clinic, where she provided legal services to immigrants with affirmative petitions and in removal proceedings. Before joining the Free Migration Project, she worked as a law clerk for Aldea – The People's Justice Center, a nonprofit immigration legal services organization in Pennsylvania. Alexandra is particularly interested in deportation and removal defense work.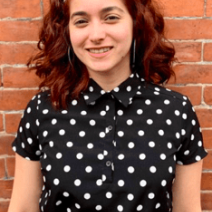 Adrianna Torres-García
Deputy Director
any pronoun
Adrianna obtained a Master of Arts in Social Work, Concentration on Social Administration, from The University of Chicago in 2018, and a Baccalaureate of Arts in Psychology from Universidad de Puerto Rico, Río Piedras in 2012. Originally from Levittown in Toa Baja, Puerto Rico, she has an extensive background in social and scientific research, as well as experience in policy and advocacy in nonprofit organizations. She began her involvement in the field of immigration as a Child Advocate for the Young Center for Immigrant Children's Rights in Chicago, and as a volunteer for UChicago's School of Social Service Administration's End Family Detention Project and the Dilley Pro Bono Project at the South Texas Family Residential Center in Dilley, Texas. Adrianna is interested in the intersections of policy advocacy, law, research, and community organizing as a tool for the empowerment of the immigrant community. Within this work, she values the frameworks of abolition, intersectional feminism, and decolonial practice.
David Bennion
He is a practicing immigration attorney and the executive director of Free Migration Project. Prior to founding Free Migration Project in 2016, David worked as a staff attorney at nonprofit legal services organizations in Brooklyn and Philadelphia and later managed a solo immigration law practice. David graduated from New York University School of Law in 2004.
Tania Chairez
Tania Chairez is an undocumented immigrant born in Chihuahua, Mexico and raised in Phoenix, Arizona. She received a B.S. from the Wharton School of Business at the University of Pennsylvania and M.Ed. from Grand Canyon University. For the past decade, Tania has prioritized her passion for the intersection of immigration and education as an immigrant rights community organizer, middle school teacher, college and career advisor, and scholarship program manager for undocumented college students. Watch her TedX Talk on being Undocumented and Unafraid, share her journey in the local documentary Five Dreamers, and uplift the UndocuAmerica Tour she is leading as the National Outreach & Education Director for Motus Theater. She is currently the Founder & Executive Director of Convivir, an organization that aims to support immigrant and refugee students in Colorado.
Juliette Gomez
Juliette Gomez is a Philadelphia-based immigration attorney specializing in removal defense and creative solutions for undocumented and transnational families. Previously, Juliette was an Associate Immigration Attorney at Corpuz & Archambeault. Juliette is a graduate of Temple University School of Law and the University of Mary Washington.
Shikha Dalmia
Shikha Dalmia is a visiting fellow with the Mercatus Center's Program on Pluralism and Civil Exchange. Previously, she was a senior analyst at Reason Foundation. Dalmia is a columnist at The Week. She previously wrote regularly for Reason magazine and served as a columnist for Forbes and the Washington Examiner.
From 1996 to 2004, Dalmia was an award-winning editorial writer at the Detroit News, covering a variety of policy issues, including the environment, immigration, Social Security, health care and foreign policy. She also worked as a reporter for the Patriot, a national daily newspaper based in New Delhi, India, where she grew up and earned her B.S. degree in chemistry and biology from the University of Delhi. Dalmia earned a Master's degree in mass communication from Louisiana State University. She also holds a post-graduate diploma in journalism from the Indian Institute of Mass Communications. She lives in the Washington, D.C., area with her husband and son.
Fabio Rojas
Fabio Rojas is the Virginia L. Roberts Professor of Sociology at Indiana University, Bloomington. He is also the co-editor of Contexts: Sociology for the Public, the official magazine of the American Sociological Association. His books include From Black Power to Black Studies: How a Radical Social Movement Became an Academic Discipline, Party in the Street: The Antiwar Movement and the Democratic Party after 9/11, and Theory for the Working Sociologist. His work has appeared in the American Journal of Sociology, Social Forces, and the Academy of Management Journal. He has written for The Washington Post, USA Today, The Hill, and other popular outlets.
Katia Perez
California born and daughter of Salvadoran immigrants, Katia is a fierce advocate for the rights of workers, women, and immigrants in her community. Katia is currently a Mass Liberation Organizer with Reclaim Philadelphia. She has experience working in community outreach and public health. She was previously lead organizer at Make the Road PA's Philadelphia office. Before that, she was the Promotores de Salud Program Coordinator at Planned Parenthood Southeastern Pennsylvania. Katia holds a B.A. in Political Science and Latin American Studies from Temple University and resides in Lower Northeast Philadelphia.
Jamila Hammami
Jamila Hammami (they/them/theirs) is a Texan, organizer, educator, writer, researcher, consultant, abolitionist social worker, and PhD student. For nearly 20 years, Jamila has organized in labor, LGBTQIA TS & GNC/ HIV+, racial/migrant/reproductive justice, and anti-imperialist movements. Jamila is a Ph.D. student of Social Welfare studying Community Organizing and Social Movements, with a focus on migration and no borders at CUNY Graduate Center and is an adjunct lecturer in the Africana Studies department at CUNY's John Jay College of Criminal Justice. Their most recent book chapter, "Bridging Immigration Justice and Prison Abolition", is published in Queer and Trans Migrations: Dynamics of Illegalization, Detention and Deportation. Additionally, Jamila is a co-PI on an IRB Community Action Research study on criminalization and resistance of Immigrant and Muslim communities. Jamila is humbled to have received several recognitions, honors, and awards for their work, and is a Frederick Douglass Bicentennial 200 Abolitionist honoree. Jamila is a steering committee member of the Open Borders Conference and serves on the Board of Directors of the Free Migration Project. Prior to Ph.D. school, Jamila was the founding executive director of the Queer Detainee Empowerment Project. Jamila holds an MSW in Community Organizing & Program Development with a focus in Immigrants and Refugees from Silberman School of Social Work at Hunter College and a BSW from the University of North Texas. Jamila's lives in Brooklyn, New York.
Steven Sacco
Steven Sacco is an immigration attorney with the Legal Aid Society of New York and often participates in the effort to organize FMP's annual Open Borders Conference. He identifies as a PIC & border abolitionist, and an anti-nationalist. He is also an advocate for the abolition of citizenship and a proponent of the notion that borders are incompatible with democracy, subjects on which he has published. He can be followed on Twitter at @steventsacco. He lives in Queens.
Jasmine Rivera
Jasmine Rivera is the Director of Civic Engagement of Pennsylvania Voice in Philadelphia, PA. Originally from Chicago, she grew up primarily in Arizona and became involved in social justice movements at a young age. Organizing with the Black and Latinx community in the Philadelphia area, she played a lead role in the passage of Philadelphia's Paid Sick Time law and Sanctuary City policy. As the Director of Civic Engagement, she helps table partners run programming to increase civic engagement for members of the New American Majority, remove barriers to voting access, ensure representation, win on issue campaigns, and achieve racial equity in the progressive community and statewide.