2020 Open Borders Conference Speakers
(For additional conference details, see the conference information page and program. ** Para detalles adicionales sobre la conferencia, consulte el programa y la página de información de la conferencia.)
Keynote Speakers – Oradores Principales
Shikha Dalmia
EN – Shikha Dalmia is a senior analyst at Reason Foundation, a nonprofit think tank advancing free minds and free markets. The archive of her latest work can be found at Reason.com. Dalmia is a columnist at The Week and writes regularly for Reason magazine. Her work also appears in The New York Times, The Wall Street Journal and numerous other publications such as The Times of London, Time, USA Today and The Daily Beast. She previously served as a columnist for Forbes and the Washington Examiner. Dalmia's feature on sanctuary churches won the first prize in immigration reporting at the 2019 Southern California Journalism Awards. She was co-winner of the first 2009 Bastiat Prize for Online Journalism for her columns in Forbes and Reason. 
ES – Shikha Dalmia es analista senior de Reason Foundation, un grupo de expertos sin fines de lucro que promueve mentes libres y mercados libres. El archivo de su último trabajo se puede encontrar en Reason.com. Dalmia es columnista de The Week y escribe regularmente para la revista Reason. Su trabajo también aparece en The New York Times, The Wall Street Journal y muchas otras publicaciones como The Times of London, Time, USA Today y The Daily Beast. Anteriormente se desempeñó como columnista de Forbes y el Washington Examiner. El artículo de Dalmia sobre iglesias santuario ganó el primer premio en reportajes sobre inmigración en los Premios de Periodismo del Sur de California 2019. Fue co-ganadora del primer Premio Bastiat de Periodismo en Línea 2009 por sus columnas en Forbes y Reason.
Helena Maleno Garzón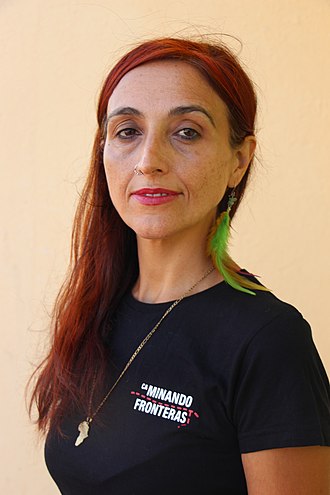 EN – Helena Maleno Garzón is a Spanish human rights defender, journalist, researcher, documentalist and writer. She is a specialist in the migration and trafficking in human beings. She is the founder of the Caminando Fronteras collective. She lives in Morocco, where she denounces the violations of Human Rights in the Western European border and works on supporting and empowerment of the sub-Saharan migrant communities during the migratory process, especially women and children victims of violence.
ES – Helena Maleno Garzón es una defensora de los derechos humanos, periodista, investigadora, documentalista y escritora española. Es especialista en migración y trata humana. Es la fundadora del colectivo Caminando Fronteras. Vive en Marruecos, donde denuncia las violaciones a los Derechos Humanos en la frontera de Europa Occidental y trabaja para el apoyo y empoderamiento de las comunidades migrantes subsaharianas durante el proceso migratorio, especialmente mujeres y niños víctimas de violencia.
Samah Sisay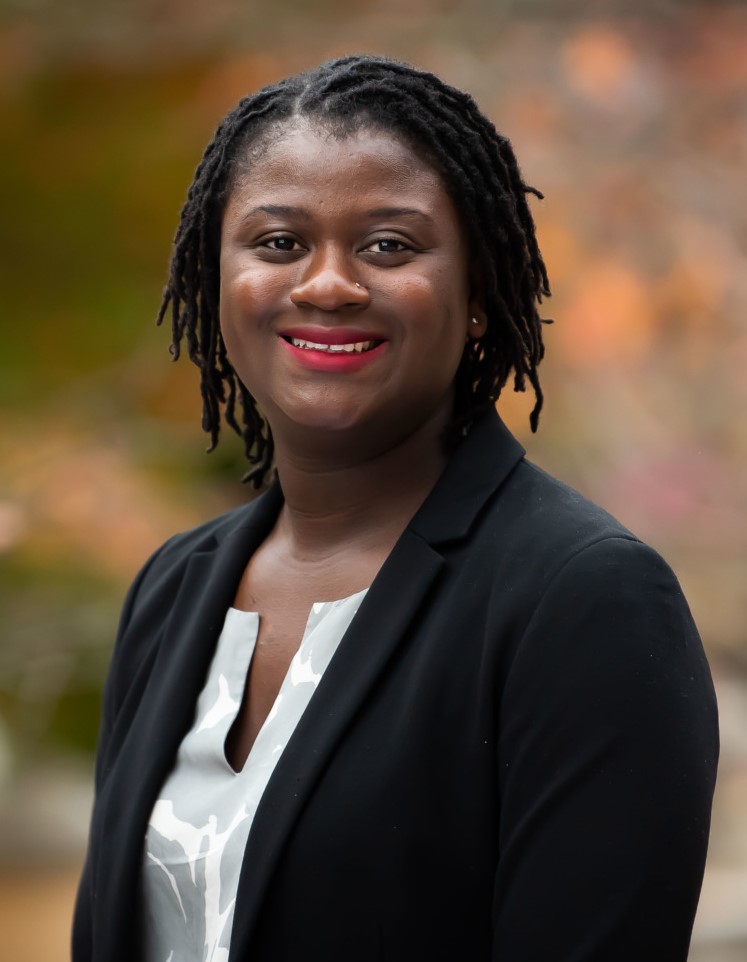 EN – Samah Sisay is a Bertha Justice Fellow at the Center for Constitutional Rights, where she specializes in international human rights and challenging inhumane immigration policies and abusive police practices. Prior to coming to the Center for Constitutional Rights, Samah worked as an Equal Justice Works Fellow at African Services Committee. During her two-year fellowship, Samah provided legal representation on immigration matters to undocumented Black immigrant women, both transgender and cisgender, impacted by gender violence. Samah was born in Liberia and immigrated to the United States with her family at a young age during the country's civil war. Samah earned a BA in International Affairs at the George Washington University and is a 2018 graduate of New York University School of Law. Samah also organizes with Survived and Punished New York; a prison industrial complex abolition coalition working to end the  criminalization of all survivors of domestic and sexual violence.
ES – Samah Sisay es una Becaria Bertha Justice en el Center for Constitutional Rights, donde se especializa en derechos humanos internacionales y cuestiona políticas de inmigración inhumanas y prácticas policiales abusivas. Antes de ingresar al Center for Constitutional Rights, Samah trabajó como miembro de Equal Justice Works en el Comité de Servicios Africanos. Durante su beca de dos años, Samah brindó representación legal en asuntos de inmigración a mujeres inmigrantes negras indocumentadas, tanto transgénero como cisgénero, afectadas por la violencia de género. Samah nació en Liberia y emigró a EE. UU. con su familia a una edad temprana durante la guerra civil de Liberia. Samah obtuvo un B.A. en Asuntos Internacionales en la Universidad George Washington y se graduó en 2018 de la Facultad de Derecho de la Universidad de Nueva York. Samah también organiza con Survived and Punished New York; una coalición de abolición del complejo industrial penitenciario que trabaja para poner fin a la criminalización de todos los sobrevivientes de violencia doméstica y sexual.
Harsha Walia
EN – Harsha Walia has organized in migrant justice, anti-capitalist, feminist, abolitionist, and anti-imperialist movements for the past two decades on unceded Coast Salish territories. She has been involved in grassroots movements including No One Is Illegal and the Feb 14 Women's Memorial March. She is also the award-winning author of Undoing Border Imperialism, co-author of Never Home: Legislating Discrimination in Canadian Immigration as well as Red Women Rising: Indigenous Women Survivors in Vancouver's Downtown Eastside. Trained in law, Harsha is the Executive Director of BC Liberties Association. She wants a world without borders, bitumen, bombs, and bros.
ES – Harsha Walia se ha organizado en movimientos de justicia migrante, anticapitalistas, feministas, abolicionistas y antiimperialistas durante las últimas dos décadas en los territorios no cedidos Coast Salish. Ha estado involucrada en movimientos de base como No One Is Illegal y la Marcha en Memoria de las Mujeres del 14 de febrero. También es la galardonada autora de Undoing Border Imperialism, coautora de Never Home: Legislating Discrimination in Canadian Immigration, así como de Red Women Rising: Indigenous Women Survivors in Vancouver's Downtown Eastside. Formada en derecho, Harsha es la Directora Ejecutiva de BC Liberties Association. Quiere un mundo sin fronteras, bitumen, bombas y bros.
Panelists – Panelistas
Dalia Abdelhady
EN – With a PhD in Sociology and B.A. in Economics and Egyptology, Dalia's work favors interdisciplinary approaches to the study of societies and cultures. Specifically, her work deals with the ways globalization shapes the lives of individuals in various ways. She has written a number of articles and book chapters on experiences of immigrants and their children with integration and socioeconomic mobility, modes of identification, and cultural expression. Her research and teaching interests include migration, gender, religion, culture, and social movements. In addition to studying Arab immigrants in Europe and North America, she also studies social change in the Arab world with a focus on women's public roles and cultural understandings of women's rights.
ES – Con un Doctorado en Sociología y B.A. en Economía y Egiptología, el trabajo de Dalia favorece enfoques interdisciplinarios para el estudio de sociedades y culturas. Específicamente, su trabajo trata de las formas en que la globalización da forma a la vida de las personas de diversas maneras. Ha escrito varios artículos y capítulos de libros sobre experiencias de inmigrantes y sus hijos con la integración y movilidad socioeconómica, modos de identificación y expresión cultural. Sus intereses de investigación y docencia incluyen migración, género, religión, cultura y movimientos sociales. Además de estudiar a los inmigrantes árabes en Europa y América del Norte, también estudia el cambio social en el mundo árabe con un enfoque en los roles públicos de la mujer y la comprensión cultural de los derechos de la mujer.
Yemi Adamolekun
EN – Yemi currently serves as the Executive Director of Enough is Enough Nigeria (EiE), a non-partisan network of individuals and organizations committed to building a culture of good governance and public accountability in Nigeria through active citizenship. She is also the secretary to EiE's board. Yemi has a 20-year diverse career spanning the public and private sectors in the United States and Nigeria. She volunteers for Kaleyewa House, an NGO founded by her late mother focused on the elderly. She's also on the boards of Make it Happen Productions and the After School Career Development Centre, Calabar. In 2018, she was named as one of the Most Influential People of African Descent (MIPAD), endorsed by the United Nations in the Humanitarian & Religious category.
ES – Yemi actualmente se desempeña como Directora Ejecutiva de Enough is Enough Nigeria (EiE, por sus siglas en inglés), una red no partidista de personas y organizaciones comprometidas con la construcción de una cultura de buena gobernanza y responsabilidad pública en Nigeria a través de la ciudadanía activa. También es la secretaria del consejo de EiE. Yemi tiene una carrera diversa de 20 años que abarca los sectores público y privado en EE. UU. y Nigeria. Es voluntaria de Kaleyewa House, una ONG fundada por su difunta madre que se enfoca en los ancianos. También forma parte de las juntas directivas de Make it Happen Productions y del After School Career Development Center, Calabar. En 2018, fue nombrada como una de las Personas Afrodescendientes Más Influyentes (Most Influential People of African Descent), respaldada por las Naciones Unidas en la categoría Humanitaria y Religiosa.
Paul Crider
EN – Paul Crider is a husband and father living in the San Francisco Bay Area. He daylights as a semiconductor engineer but otherwise likes to spend his time reading and writing. He grew up in Oklahoma before migrating to California for graduate school in chemistry.  
ES – Paul Crider es esposo y padre que vive en el Área de la Bahía de San Francisco. Le gusta trabajar como ingeniero de semiconductores, pero por lo demás le gusta pasar su tiempo leyendo y escribiendo. Creció en Oklahoma antes de emigrar a California para realizar un posgrado en química. 
Karma Chavez
EN – Karma R. Chávez teaches, writes, and currently serves as chair in the Department of Mexican American and Latina/o Studies at the University of Texas at Austin where she also holds several affiliate faculty appointments. She is author of Queer Migration Politics: Activist Rhetoric and Coalitional Possibilities. She has recently finished another monograph called The Borders of AIDS: Race, Quarantine, and Resistance (University of Washington Press, 2021).
ES – Karma R. Chávez enseña, escribe y actualmente se desempeña como Presidenta del Departamento de Estudios Latinoamericanos y Mexicanos en la Universidad de Texas en Austin, donde también tiene varios nombramientos de profesores afiliados. Es autora de Queer Migration Politics: Activist Rhetoric and Coalitional Possibilities. Recientemente, terminó otra monografía titulada The Borders of AIDS: Race, Quarantine, and Resistance.
Ashoka Jegroo
EN – Ashoka Jegroo is a multimedia journalist born and raised in Brooklyn, New York. Along with documenting and reporting on protests, police, and the policing of protests, his written work covers state violence against oppressed communities, radical political movements, and the fight against fascism. He has covered protests in New York City, Washington DC, Philadelphia, and Santiago, Chile. Along with bylines at outlets like The Appeal, Gothamist, Waging Nonviolence, & Truthout, you can find his work live-tweeting protests on Twitter at @AshAgony.
ES – Ashoka Jegroo es un periodista multimedia nacido y criado en Brooklyn, Nueva York. Además de documentar e informar sobre las protestas, la policía y la vigilancia de las protestas, su trabajo escrito cubre la violencia estatal contra las comunidades oprimidas, los movimientos políticos radicales y la lucha contra el fascismo. Ha cubierto protestas en la ciudad de Nueva York, Washington DC, Filadelfia y Santiago de Chile. Junto con las firmas de medios como The Appeal, Gothamist, Waging Nonviolence y Truthout, puedes encontrar su trabajo en vivo tuiteando protestas en Twitter en @AshAgony.
Audu Kadiri
EN – Audu Kadiri is a Community Organizer, Public Health and Human Rights Advocate with over 15 years' experience. He currently works as a full-time Community Organizer with African Communities Together in New York City. Before moving to the US in 2014, Audu previously worked as Head of Programs for the International Center for Advocacy on Rights to Health – ICARH, and Program Officer for Heartland Alliance International in Abuja, Nigeria where he coordinated HIV prevention projects, documented human rights violations against the most at risk populations (gay men, sex workers and drug users) and was part of the team that coordinated Nigeria's first clinic serving this population. Since arriving the US in 2014, Audu has continued to work in the immigration and human rights field, connecting African immigrants to resources they need to help them resettle in the U.S., including free immigration legal services and language access. Audu is also an Alumni of the Coro New York Leadership Center's Immigrant Civic Leadership Program – ICLP (2018 cohort). He holds a graduate degree in Banking and Finance and a post graduate diploma in International Humanitarian Assistance from Fordham University, New York City. 
ES – Audu Kadiri es un organizador comunitario, defensor de la salud pública y los derechos humanos con más de 15 años de experiencia. Actualmente trabaja como Organizador Comunitario a tiempo completo con African Communities Together, en la ciudad de Nueva York. Antes de mudarse a los EE. UU. en 2014, Audu trabajó anteriormente como Jefe de Programas para el Centro Internacional de Defensa de los Derechos a la Salud (ICARH, por sus siglas en inglés), y Oficial de Programas para Heartland Alliance International en Abuja, Nigeria, donde coordinó proyectos de prevención del VIH y documentó violaciones de derechos humanos contra las poblaciones de mayor riesgo (hombres homosexuales, trabajadores sexuales y consumidores de drogas) y formó parte del equipo que coordinó la primera clínica de Nigeria que atiende a esta población. Desde que llegó a los EE. UU. en 2014, Audu ha continuado trabajando en el campo de la inmigración y los derechos humanos, conectando a los inmigrantes africanos con los recursos que necesitan para ayudarlos a asentarse en los EE. UU., incluyendo servicios legales de inmigración gratuitos y acceso a idiomas. Audu también es ex alumno del Programa de Liderazgo Cívico para Inmigrantes del Coro New York Leadership Center. Tiene un título de posgrado en Banca y Finanzas y un diploma de posgrado en Asistencia Humanitaria Internacional de la Universidad de Fordham, Nueva York.
Jessica Lee  
EN – Based in San Francisco, CA, Jess is the CEO of Bitesize, a human augmentation platform for sales. She graduated from Bryn Mawr College with a degree in Physics and Political Science. Previously she was a member of DreamActivist Pennsylvania.
ES – Con sede en San Francisco, California, Jess es la Directora Ejecutiva de Bitesize, una plataforma de aumento humano para las ventas. Se graduó de Bryn Mawr College con un título en Física y Ciencias Políticas. Anteriormente fue miembro de DreamActivist Pennsylvania.
David Maas
EN – As EFF's senior investigative researcher, Dave Maass is a muckraker/noisemaker covering issues related to police surveillance, free speech, transparency, and government accountability. In addition to leading deep-dive investigations, Dave coordinates large-scale public records campaigns, advocates on state legislation, and compiles The Foilies, EFF's annual tongue-in-cheek awards for outrageous responses to FOIA requests. He sometimes represents EFF in digital rights-themed cosplay at Dragon Con, and he edited EFF's first science fiction collection, Pwning Tomorrow.  He also researches virtual reality as part of the team that developed Spot the Surveillance, EFF's first VR experience. He welcomes outreach from the public about police technology (e.g. automated license plate readers, biometric identification), prisoner rights, or public records laws.
ES – Como investigador principal de EFF, Dave Maass es un escandaloso que cubre temas relacionados con la vigilancia policial, la libertad de expresión, la transparencia y la responsabilidad gubernamental. Además de liderar investigaciones profundas, Dave coordina campañas de registros públicos a gran escala, aboga por la legislación estatal y compila The Foilies, los premios irónicos anuales de EFF por respuestas escandalosas a las solicitudes FOIA. A veces representa a EFF en cosplay con temas de derechos digitales en Dragon Con, y editó la primera colección de ciencia ficción de EFF, Pwning Tomorrow. También investiga la realidad virtual como parte del equipo que desarrolló Spot the Surveillance, la primera experiencia de realidad virtual de EFF. Agradece la divulgación del público sobre tecnología policial (por ejemplo, lectores automáticos de matrículas, identificación biométrica), derechos de los prisioneros o leyes de registros públicos.
Salim Nabi
EN – Salim is an independent researcher  whose research interests are the study of borders, life, power, space, and subjectivities. As such, he is interested in the study of Commons and "affirmative biopolitics", Anti-Authoritarian politics and practices, forced migration and refugee studies, the refugee situation in Greece and borders of Europe, the right to the city as the possibility for social and political askesis for refugees and migrants, squats as alternative spaces to the refugee management, militant research and ethnographies, and research methods and ethics in struggles for refugee and migrant rights. Salim's main field of research and ethnographic studies is the border island Lesbos, Greece, which I have researched from various angles since the implementation of the EU-Turkey Statement in 2016. Salim received an MA in Interdisciplinary Studies (York University, Toronto) and a BA in Philosophy (York University, Toronto).
ES – Salim es un investigador independiente cuyos intereses de investigación son el estudio de las fronteras, la vida, el poder, el espacio y las subjetividades. Como tal, está interesado en el estudio de los Comunes y la "biopolítica afirmativa", las políticas y prácticas antiautoritarias, la migración forzada y los estudios de refugiados, la situación de los refugiados en Grecia y las fronteras de Europa, el derecho a la ciudad como posibilidad de socialización, y la askesis política para refugiados y migrantes, okupas como espacios alternativos a la gestión de refugiados, investigación y etnografías militantes, y métodos de investigación y ética en las luchas por los derechos de los refugiados y emigrantes. El principal campo de investigación y estudios etnográficos de Salim es la isla fronteriza de Lesbos, Grecia, que he investigado desde varios ángulos desde la implementación de la Declaración UE-Turquía en 2016. Salim recibió una maestría en Estudios Interdisciplinarios (Universidad de York, Toronto) y una Licenciada en Filosofía (Universidad de York, Toronto).
Alex Nowrasteh
EN – Alex Nowrasteh is the Director of Immigration Studies at the Cato Institute's Center for Global Liberty and Prosperity. His popular publications have appeared in the Wall Street Journal, USA Today, the Washington Post, and most other major publications in the United States. His peer-reviewed academic publications have appeared in The World Bank Economic Review, the Journal of Economic Behavior and Organization, Economic Affairs, the Fletcher Security Review, the Journal of Bioeconomics, and Public Choice. Alex regularly appears on Fox News, MSNBC, Bloomberg, NPR, and numerous television and radio stations across the United States. He is a coauthor of the booklet Open Immigration: Yea and Nay. He is a native of Southern California and received a BA in economics from George Mason University and a Master of Science in economic history from the London School of Economics.
ES – Alex Nowrasteh es el Director de Estudios de Inmigración en el Centro para la Libertad y la Prosperidad Global del Instituto Cato. Sus publicaciones populares han aparecido en el Wall Street Journal, USA Today, The Washington Post y la mayoría de las otras publicaciones importantes en EE.UU. Sus publicaciones académicas revisadas por pares han aparecido en The World Bank Economic Review, Journal of Economic Behavior and Organization, Economic Affairs, Fletcher Security Review, Journal of Bioeconomics y Public Choice. Alex aparece regularmente en Fox News, MSNBC, Bloomberg, NPR y numerosas estaciones de radio y televisión en EE.UU. Es coautor del folleto Open Immigration: Yea and Nay. Es nativo del sur de California y recibió un B.A. en economía de la Universidad George Mason y una maestría en historia económica de la London School of Economics. 
Abraham Paulous  
EN – Abraham Paulos is a seasoned communications expert, journalist, and movement leader who has advocated for human rights for more than a decade. Abraham is currently the Deputy Director of Communications and Policy of the Black Alliance for Just Immigration (BAJI). He develops and implements BAJI's overall communications strategy nationwide in collaboration with BAJI members and staff. Before joining BAJI, Abraham was the Executive Director of Families for Freedom (FFF), a position he held after facing immigration detention at Rikers Island and becoming a member of FFF.
ES – Abraham Paulos es un experto en comunicaciones, periodista y líder del movimiento que ha abogado por los derechos humanos durante más de una década. Abraham es actualmente el Subdirector de Comunicaciones y Políticas de la Black Alliance for Just Immigration (BAJI, por sus siglas en inglés). Desarrolla e implementa la estrategia general de comunicaciones de BAJI en todo el país en colaboración con los miembros y el personal de BAJI. Antes de unirse a BAJI, Abraham fue Director Ejecutivo de Families for Freedom (FFF, por sus siglas en inglés), un puesto que ocupó después de enfrentar la detención de inmigrantes en Rikers Island y convertirse en miembro de FFF.
Lupita Romero
EN – Lupita Romero an undocumented MeXicana who resides in Queens, New York. She is a writer, artist and a co-host of Working Class Heroes Radio. She works as a paralegal for low income New Yorkers and is a proud union member of Legal Services Staff Association 2320.
ES – Lupita Romero, una meXicana indocumentada que reside en Queens, Nueva York. Es escritora, artista y co-presentadora de Working Class Heroes Radio. Trabaja como asistente legal para neoyorquinos de bajos ingresos y es una orgullosa miembro sindical de la Asociación de Personal de Servicios Legales 2320. 
Bamby Salcedo  
EN – Bamby is a national and international recognized transgender Latina Woman who received her Master's Degree in Mexican and Latin@ Studies from California State University, Los Angeles. Bamby is the President and CEO of the TransLatin@ Coalition, a national organization that focuses on addressing the issues of transgender Latin@s in the US. Bamby developed the Center for Violence Prevention & Transgender Wellness, a multipurpose, multiservice space for Trans people in Los Angeles. Bamby's remarkable and wide-ranging activist work has brought voice and visibility to not only the trans community, but also to the multiple overlapping communities and issues that her life has touched including migration, HIV, youth, LGBTQ+, incarceration and Latin@ communities. Bamby has served and participated in many local, national and international organizations and planning groups. This work mediates intersections of race, gender, sexuality, age, social class, HIV+ status, immigration status and more. 
ES – Bamby es una mujer latina transgénero reconocida a nivel nacional e internacional que recibió su Maestría en Estudios Mexicanos y Latinos de la Universidad del Estado de California, Los Ángeles. Bamby es Presidenta y Directora Ejecutiva de TransLatin@ Coalition, una organización nacional que se enfoca en abordar los problemas de les latin@s transgénero en los EE. UU. Bamby desarrolló el Centro para la Prevención de la Violencia y el Bienestar Transgénero, un espacio de usos múltiples y múltiples servicios para personas transgénero en Los Ángeles. El notable y amplio trabajo activista de Bamby ha traído voz y visibilidad no solo a la comunidad transgénero, sino también a las múltiples comunidades interseccionales y los problemas que su vida ha tocado, incluidas la migración, el VIH, la juventud, LGBTQ+, el encarcelamiento y las comunidades latinas. Bamby ha trabajado y participado en muchas organizaciones y grupos de planificación locales, nacionales e internacionales. Este trabajo media las intersecciones de raza, género, sexualidad, edad, clase social, estado de VIH +, estado de inmigración y más. 
Nandita Sharma
EN – Nandita Sharma is a Professor of Sociology at the University of Hawaii at Manoa. Her research focuses on the intersection of nationalism, racism and the politics of human migration. Nandita is an activist scholar who has long been active in feminist, anti-racist, anti-capitalist and No Borders movements. She has written numerous journal articles and book chapters and is the author of two books:  Home Economics: Nationalism and the Making of 'Migrant Workers' in Canada and Home Rule: National Sovereignty and the Separation of Natives and Migrants.
ES – Nandita Sharma es Profesora de Sociología en la Universidad de Hawaii en Manoa. Su investigación se centra en la intersección del nacionalismo, el racismo y la política de la migración humana. Nandita es una académica activista que ha estado activa durante mucho tiempo en movimientos feministas, antirracistas, anticapitalistas y Sin Fronteras. Ha escrito numerosos artículos de revistas y capítulos de libros y es autora de dos libros: Home Economics: Nationalism and the Making of 'Migrant Workers' in Canada y Home Rule: National Sovereignty and the Separation of Natives and Migrants.
Nathan Tankus
EN – Nathan Tankus is the Director of Research at the Modern Money Network and a research fellow at the Global Institute for Sustainable Prosperity.
ES – Nathan Tankus es Director de Investigación en Modern Money Network y miembro de investigación del Instituto Global para la Prosperidad Sostenible.
Aliya Yule
EN – Aliya is the Healthcare for All Migrant Organiser at Migrants Organise, a platform for migrants and refugees to work together for dignity and justice in the UK. She works on the Patients Not Passports campaign, organising with migrants, healthcare workers, and community groups to end Hostile Environment immigration controls in the NHS. She is developing a direct action casework model to support people excluded from or charged for healthcare to build community-led campaigns, such as the Justice for Simba campaign. Aliya worked on the voter registration drive Promote the Migrant Vote during the 2019 General Election. Most recently, she organised with migrant groups across the country for the Solidarity Knows No Borders national weekend of action, building support for the Fair Immigration Reform Movement Charter which calls for an urgent and comprehensive overhaul of the current UK immigration system to be replaced with policies based on a common respect for basic rights, and the principles of dignity, justice, welcome and action. Before joining Migrants Organise, Aliya built political campaigns on climate justice, anti-racism and anti-imperialism, Palestine, and other progressive causes. She previously worked at Momentum where she organised and supported 200 local Momentum groups and ran leadership training for young BME activists. She was a co-founder of Labour for a Green New Deal, calling for an anti-imperialist and internationalist approach to climate change, and was on the Steering Committee of Labour Against Racism and Fascism.
ES – Aliya es la Organizadora de Atención Médica para Todos los Migrantes en  Migrants Organise, una plataforma para que migrantes y refugiados trabajen juntos por la dignidad y la justicia en el Reino Unido. Ella trabaja en la campaña Patients Not Passports, organizando con migrantes, trabajadores de la salud y grupos comunitarios para terminar con los controles de inmigración de entornos hostiles en el Servicio Nacional de Salud (NHS, por sus siglas en inglés). Ella está desarrollando un modelo de trabajo de casos de acción directa para ayudar a las personas excluidas o a quienes le cobran por la atención médica a crear campañas dirigidas por la comunidad, como la campaña Justice for Simba. Aliya trabajó en la campaña de registro de votantes Promote the Migrant Vote para promover el voto migrante durante las elecciones generales de 2019. Más recientemente, junto a grupos de migrantes de todo el país organizó el fin de semana de acción nacional Solidarity Knows No Borders, creando apoyo para la Carta del Movimiento de Reforma Justa de Inmigración, que pide una revisión urgente y completa del actual sistema de inmigración del Reino Unido para ser reemplazado por políticas basadas en el respeto común de los derechos fundamentales y los principios de dignidad, justicia, acogida y acción. Antes de unirse a Migrantes Organize, Aliya construyó campañas políticas sobre justicia climática, antirracismo y antiimperialismo, Palestina y otras causas progresistas. Anteriormente trabajó en Momentum, donde organizó y apoyó a 200 grupos locales de Momentum y llevó a cabo una capacitación en liderazgo para jóvenes activistas de BME. Fue cofundadora de Labour for a Green New Deal, que pedía un enfoque antiimperialista e internacionalista para el cambio climático y estaba en el Comité Directivo de Labour Against Racism and Fascism.
Marzena Zukowska
EN – Marzena is a London-based organizer, communications strategist, and co-founder of Polish Migrant Organise for Change. For a decade, she has developed narrative and organizing strategies for leading social movements in the U.S. and in the UK. She was Media Relations Director for National Domestic Workers Alliance, where she used pop culture and storytelling to build leadership and political empowerment among domestic workers. Marzena has worked on countless "Get Out The Vote" and canvassing campaigns among low propensity voters. In 2019, co-founded Polonia Glosuje (Polish Diaspora Votes), a UK-based campaign that helped spur some of the highest voter turnout rates in two Polish elections. She is a frequent contributor to Red Pepper magazine, and has been published in two anthologies: Asylum for Sale: Profit and Protest in the Migration Industry and Queer Activism After Marriage Equality. Marzena co-leads the Radical Communicators Network, and is a queer, Polish immigrant who grew up undocumented in the U.S.
ES – Marzena es una organizadora, estratega de comunicaciones y cofundadora de Polish Migrant Organize for Change con sede en Londres. Durante una década, ha desarrollado estrategias narrativas y organizativas para liderar movimientos sociales en los EE. UU. y en el Reino Unido. Fue Directora de Relaciones con los Medios de la Alianza Nacional de National Domestic Workers Alliance, donde utilizó la cultura pop y la narración de historias para construir liderazgo y empoderamiento político entre las trabajadoras del hogar. Marzena ha trabajado en innumerables campañas de "Get Out The Vote" y de sondeo entre votantes de baja propensión. En 2019, cofundó Polonia Glosuje (Polish Diaspora Votes), una campaña con sede en el Reino Unido que ayudó a impulsar algunas de las tasas de participación de votantes más altas en dos elecciones polacas. Es colaboradora frecuente de la revista Red Pepper y ha sido publicada en dos antologías: Asylum for Sale: Profit and Protest in the Migration Industry and Queer Activism After Marriage Equality. Marzena co-dirige el Radical Communicators Network, y es una inmigrante polaca cuir que creció indocumentada en los EE. UU.