Carmela and Her Children Fought COVID-19 Inside Sanctuary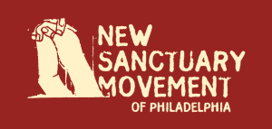 Children Hold Vigil to Call for Freedom and Ask for Support

from Members of Congress
FOR IMMEDIATE RELEASE
Press Contacts:
David Bennion, [email protected], (646) 441-0741
Peter Pedemonti, [email protected], (215) 756-6445
When: Wednesday, August 12th, 9 a.m.
Who: Carmela's four children with supporters from Germantown Mennonite Church, Free Migration Project, and New Sanctuary Movement of Philadelphia
What: Children's vigil
Where: Germantown Mennonite Church, 21 W. Washington Ln, Phila, PA 19144
Philadelphia, August 11, 2020 – Earlier this year, Carmela Apolonio Hernández and three of her four children contracted COVID-19 while living in a Germantown church. The family has lived in Sanctuary for almost 3 years now as they fight their deportation to Mexico. On Wednesday, Carmela's children will hold a vigil with supporters in front of Germantown Mennonite Church to share letters they have written to members of Congress about living with COVID-19 inside Sanctuary and the urgency of getting out of Sanctuary during the pandemic. The children are requesting support from Pennsylvania's delegation to Congress to help them leave Sanctuary freely so they can safely shelter in place.
Carmela and her three oldest children–Fidel, Keyri, and Yoselin–suffered severe COVID-19 symptoms in late spring and early summer. As the pandemic has exacerbated existing structural inequalities, Carmela's experience demonstrates the severe impact it has had on the immigrant community. Fighting extremist anti-immigrant policies, lacking access to healthcare, and not being eligible for any COVID relief benefits has pushed this family fighting to stay together to the brink.  
"My family and I went through a difficult time when we became infected with COVID-19," writes Keyri Artillero Apolonio in a letter asking elected officials for support. "Thank God we survived, but we still have problems. My Mom has memory loss and pain in her lungs; my brother Fidel still has a cough and other symptoms of a cold, and his bones ache. Yoselin has trouble breathing normally. I am afraid of becoming infectious again and passing the virus on to the community."
At the height of their illness, Carmela worried that Fidel and Keyri's fevers would not abate and they would require hospitalization. Carmela worried that if she became ill and died, there would be no one able to care for her children in her absence. Given uncertainty around long-term health effects of COVID-19 and the possibility of re-infection, winning Carmela's freedom has become even more urgent. Carmela hopes to keep her children safe from future harm and be able to access necessary health care outside of Sanctuary. 
Carmela and her children fled Mexico in 2015 after three close family members were killed by a drug cartel. Carmela applied for asylum, but her application was wrongly denied. The family was targeted by ICE and threatened with deportation. Keyri and Fidel are asking for support from members of Congress in Southeast Pennsylvania to move for speedy processing of their pending visa petitions which, if approved, would allow the family to stay in the U.S. and later apply for citizenship. A broad community has come together to support Carmela's family, including Germantown Mennonite Church, New Sanctuary Movement of Philadelphia, and Free Migration Project.
#########
New Sanctuary Movement of Philadelphia is an interfaith, multicultural immigrant justice movement organizing congregations to end injustices against immigrants, regardless of status. 
Free Migration Project is a nonprofit organization that represents immigrant clients in their legal proceedings, provides legal support and training to organizers, and advocates for fair and open immigration laws.