Litigation & Legal Services
Legal Services
Free Migration Project provides immigration legal representation to low-income clients, with a focus on cases involving asylum, unaccompanied minors, DACA, family petitions, and victims of trafficking or domestic violence.
To schedule a legal consultation for an immigration matter, please call 646-441-0741 or email [email protected]
Litigation
Litigation is one tool that can be used to support community-led initiatives to protect the rights of immigrants. Free Migration Project utilizes public interest litigation to further the rights and interests of immigrants.
Potential projects include pursuing voting rights for disenfranchised immigrants, challenging laws that exclude undocumented immigrants from access to health care, and confronting the employment authorization regime that criminalizes immigrant labor.
Free Migration Project uses the courts to push for recognition of migration as a fundamental human right. In 2017, Free Migration Project and separate pro bono counsel are representing an asylum-seeking client before the Third Circuit Court of Appeals. The case will challenge the legal framework the Board of Immigration Appeals uses to adjudicate "particular social group" asylum claims. The National Immigrant Justice Center is serving as co-counsel and coordinating amicus briefs in support of the case.
Free Migration Project is also coordinating a legal effort on behalf of Berks families to close the Berks family detention center. Find more information on our Shut Down Berks Campaign page here.
#DefendSanctuary Campaign
Update 10/23/2019: Recently, ICE withdrew fines for all of the women living in sanctuary that it had targeted earlier in the summer! This collaborative effort succeeded due to the bravery of the sanctuary leaders and the tenacity of their lawyers and supporters.
In June of 2019, ICE began targeting immigrant leaders who have taken sanctuary in churches around the country by charging them exorbitant fines of between $300,000 and $500,000 each. These sanctuary leaders are fighting to keep their families together and safe from harm. Most face death or torture in their home countries or have young children or sick family members in the U.S. who depend on them. The sanctuary leaders have been forcibly unemployed by ICE's threats to deport them and separate them from their families in the U.S. They do not have hundreds of thousands of dollars to pay outrageous fines. Neither do the churches and grassroots community groups that are supporting them.
These fines are disproportionate and violate constitutional protections. Free Migration Project and Austin Sanctuary Network are collaborating to prepare a legal defense against ICE's Sanctuary Fines along with sanctuary leaders and their attorneys.
Berks Licensing Case, Bureau of Hearings & Appeals, 2016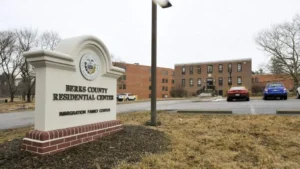 Berks County Residential Center was licensed to care for children by the Pennsylvania Department of Human Services until early 2016, when the Department revoked the license. The county appealed that decision, and the matter remains stalled under administrative review at the PA DHS Bureau of Hearings and Appeals (BHA) three years later.
In early 2018, Free Migration Project, NIP/NLG, and Aldea began a coordinated effort to intervene in the licensing matter on behalf of families currently and formerly detained at the detention center. Attorneys from each organization have jointly formed a litigation strategy.
We drafted and filed a petition to intervene in the matter pending at the BHA. When the administrative law judge at the BHA denied the petition, we filed an appeal of that decision in the Commonwealth Court of Pennsylvania. The Berks County Residential Center license has now been under review since February, 2016 and Governor Wolf refuses to act on this issue.
C.N. v. DHS – Detained Families File COVID-19 Lawsuit in Pennsylvania Courts
On April 8, 2020, Free Migration Project, Aldea – The People's Justice Center, and private counsel sued the Pennsylvania Department of Human Services (PA DHS) in the Pennsylvania Supreme Court on behalf of families detained at the Berks County Residential Center for failing to take emergency action to protect them from infection by the novel coronavirus (COVID-19).
The need for Governor Wolf to direct PA DHS to issue an Emergency Removal Order to close the Berks detention center is urgent: COVID-19 is sweeping ICE detention centers in Pennsylvania, yet PA DHS has refused to protect the detained children, some as young as one year old. PA DHS's lack of action to address the grave public health risk will have consequences not just for the families held at the family prison, but for staff, their families and communities, and ultimately the public health of all Commonwealth residents.
On April 16, 2020, the PA Supreme Court denied the King's Bench petition, instructing that the matter could be refiled in state Commonwealth Court on an expedited hearing schedule. On April 22, 2020, FMP and our litigation partners sued PA DHS in Commonwealth Court. On April 29, 2020, the Commonwealth Court denied Berks County's application to intervene in the case.
More information is available in the press release announcing the King's Bench lawsuit.
Court filings relating to C.N., et al. v. DHS:
King's Bench Petition
Commonwealth Court